When it comes to money, security is undoubtedly one of the most essential features that any platform must ensure. We want to feel safe when we trust service providers with our funds and not to worry if they protect them properly.
At SpectroCoin, we implement a number of security features to protect our customers' assets, such as second-factor authentication, bug bounty, and safety notifications. Another option that helps to improve security in our trading platform – SpectroCoin Pro – is address whitelisting. 
What is address whitelisting?
Without having addresses whitelisted, you can make withdrawals from your account to any crypto address. While this might seem like a convenient option since you do not have to take any extra steps to verify the withdrawal address, whitelisting prevails in terms of security.
Whitelisting an address can be beneficial in a number of circumstances. Obviously, it is crucial to whitelist your addresses in case your account gets compromised. In such a scenario, your assets will not be stolen as they can only be sent to the addresses you trust.
The address whitelisting feature is also useful as it eliminates the possibility of mistyping your address. Since cryptocurrency transactions are irreversible, there is no way to recover the assets sent to an incorrect address. However, with the help of the whitelisting feature, these problems will never occur as users will never have to enter the receiver's address themselves.
How to whitelist an address on SpectroCoin Pro?
Protecting your SpectroCoin Pro account by whitelisting your withdrawal addresses is simple. Here are a few steps you need to follow: 
Step 1. Log in to your SpectroCoin account. Remember, you can use a single account to access all of our services, including SpectroCoin Loans and the trading platform SpectroCoin Pro. 
Step 2. Go to the "Profile" section on the left side of the screen and select "Address Whitelisting".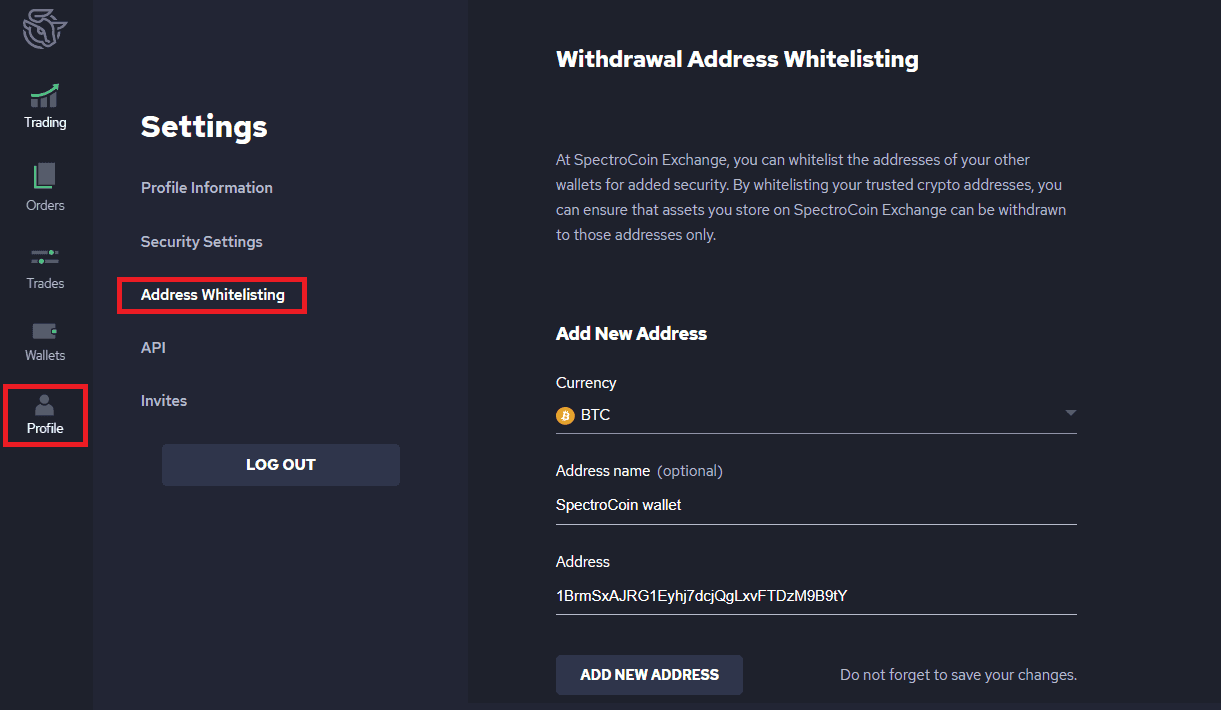 Step 3. Choose the currency, enter the address name, and the address itself. Click on the "Add new address" button. 
Step 4. Confirm the addition with the second-factor authentication code and wait for the approval. It might take up to 24 hours for your crypto address to be added to the whitelist due to security reasons. 

That is it! You have successfully added a crypto address to your whitelist. Henceforth, you can only transfer assets to this address. You may delete the address by pressing the "Remove" button or add unlimited crypto addresses at any time. 
If you have any questions about SpectroCoin, don't hesitate to contact our customer support. Do so through the LiveChat available on our website or drop an email at [email protected]