Despite providing payment integration solutions, such as payment processing APIs, payment buttons or e-commerce plugins, we give our customers the ability to accept payments straight to their SpectroCoin account without any tiring aspects using merchant orders.
What are the benefits of accepting payments in cryptocurrency?
Along with Bitcoin reaching its all-time high, cryptocurrencies are gaining a lot of interest around the world. With this massive popularity of crypto, more and more businesses and individual merchants are starting to accept crypto payments from their customers, allowing them to spend cryptocurrencies on their day-to-day purchases.
Accepting crypto payments also unlocks plenty of other benefits, mainly related to the speed of transactions, the ability to accept payments for merchant services worldwide, and lower chargeback risk.
#Instant settlement
Unlike traditional banks, cryptocurrency transactions are processed and confirmed by the blockchain. Thus, instead of going through multiple stages from authorization to release of the payment, the cryptocurrency is credited to the receiver's account immediately after it is confirmed on the network. This usually takes no longer than 15 minutes.
#Global accessibility
Some payment options might be local, leaving international customers without a way to pay for goods or services. With cryptocurrency, it is different – there are no borders. No matter what country you or your customer is from, crypto payments are available to everyone.
#Decreased risk of chargebacks
As mentioned earlier, with traditional payment options, there is always a chance of a chargeback. The risk of your payment being reversed decreases significantly when you accept cryptocurrency as a payment method. Crypto transactions are almost irreversible – once they are recorded on the blockchain and confirmed by the network, they cannot be returned by the sender.
How to accept payments with merchant orders at SpectroCoin?
To create merchant orders at SpectroCoin, all you need to do is have an account with us. It does not matter if you are an individual or a business – we serve both private merchants and companies.
Step 1: Set up your SpectroCoin account. If you have not registered an account with us yet, you can do so here. After that, verify your account if you plan to withdraw funds to your bank account or use other services that require KYC verification. You can find complete verification instructions in our blog post.
Step 2: Create a merchant project. Head over to the "Merchant" section of your account and click "New project". Select a cryptocurrency in which you would like to accept payments (BTC, DASH, or NEM). Enter your project name and description, and choose the crypto or fiat currency in which you want to receive payments.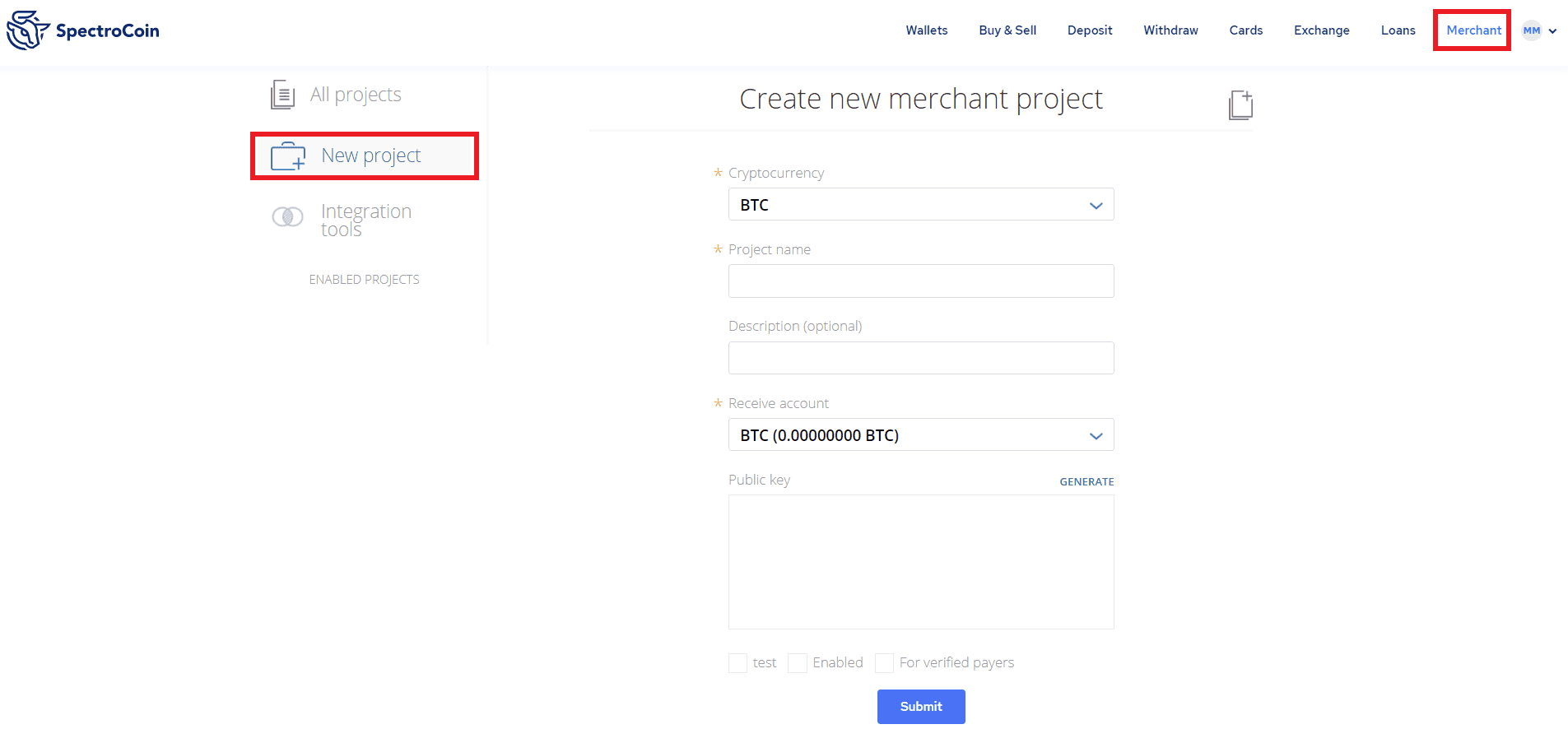 If you choose to receive crypto, your orders will be valid for 15 minutes. It means that customers must send the required amount within that time frame, otherwise, the opened order expires. Selecting a fiat currency will apply to a currency exchange when the payment is made and will allow creating orders that are valid for 24 hours after opening the payment link.
Then, choose some final settings for your project. You can select the "For verified payers" option to allow customers who have verified their SpectroCoin account to make a payment to you. Don't forget to activate your project by pressing "Enabled". To see how it works before accepting actual payments, check the "Test" box.
Step 3: Create a merchant order. SpectroCoin gives you two options – either create a custom order or set up a public order URL.

The public order URL is relatively simple, giving you the ability to insert an amount you want to receive and share the order link with your customer whenever you need.
A single order, on the other hand, provides you with more customization options. To create a single order, press "Create order" and enter the amount you want to receive. Fill in other optional fields like "Order ID", "Success URL" and "Failure URL" if you wish to customize your order.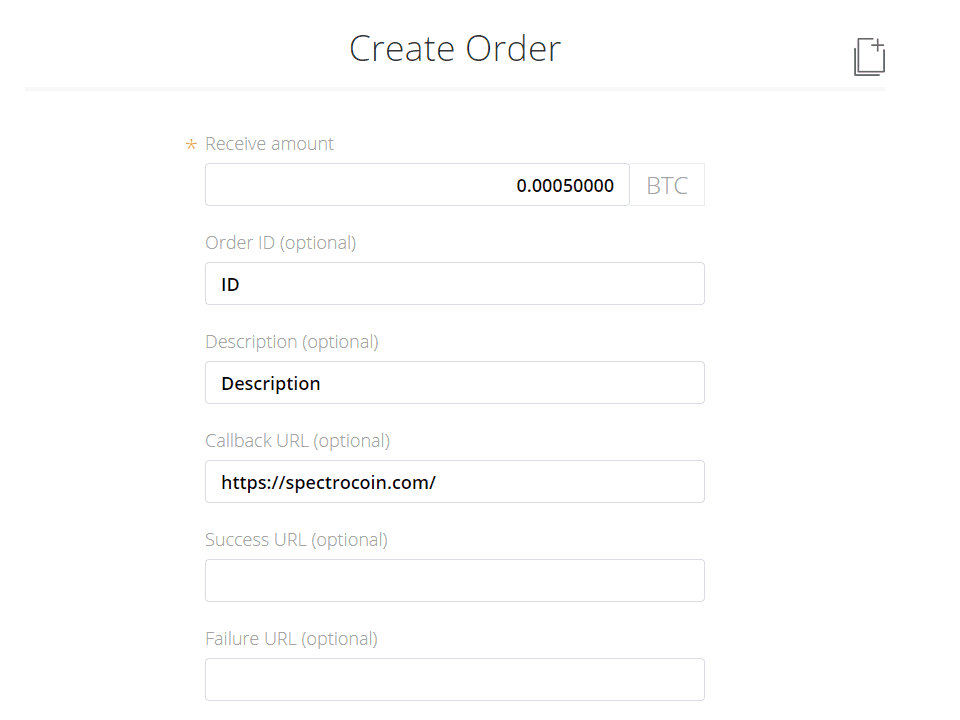 Before submitting an order, decide if you want to create pre-orders based on your completed form ("Create a payment link") or to be able to make multiple orders according to the details you have inserted ("Create multiple pre-order links").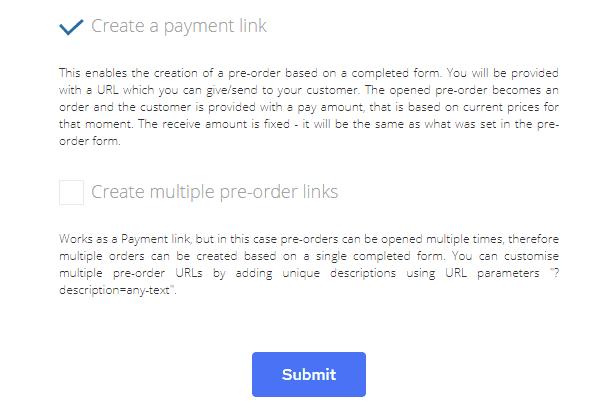 The main difference between these options is that a single payment link can only be used once, as order time begins to run out once it is opened. In contrast, creating multiple pre-order links gives you the option to open the same link and be paid for the order several times.
Once the order is opened, the customer will be shown the amount that has to be paid using the QR code or the address visible in the order, as well as the time remaining to make the payment.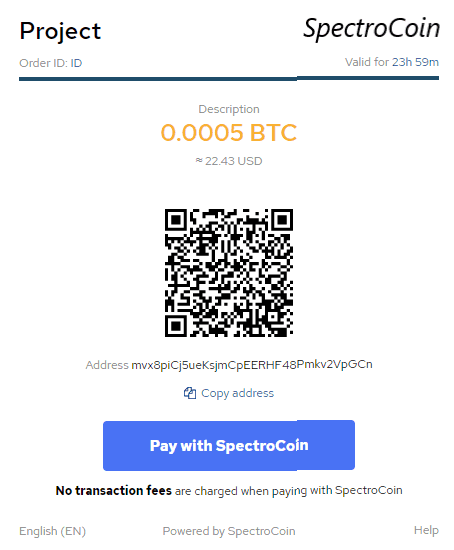 You can also watch the video tutorial on how to create a merchant order on our YouTube channel.
If you have more questions regarding merchant orders at SpectroCoin, get in touch with our 24/7 customer support via the LiveChat bubble on our website or drop us an email [email protected].