Do you agree that speed and cost are the two most important components in the field of payments? We definitely do. That's why we strive to offer a wide selection of instant and cost-efficient deposit and withdrawal methods.
One such method that unlocks the possibility to transfer EUR to and from European banks in seconds is SEPA Instant. The option allows payments among the Single Euro Payments Area network at any time, 24/7, including holidays.
Today, we have prepared a quick guide on how to buy Bitcoin with the SEPA Instant option at SpectroCoin. 
What are the benefits of SEPA Instant?
Being a member of the SEPA Instant network allows access to free instant bank transfers among 2,300 banks and financial institutions. While the procedure of making SEPA Instant payments does not differ from a usual transfer, it eliminates the transaction processing time and ensures immediate settlement instead.
Also, it is a crucial method to have in the field of cryptocurrency, as it provides the possibility to capture swings in crypto prices instantly. For example, if you notice the right time for Bitcoin to be purchased, you can top up your SpectroCoin account in minutes, without missing the chance to buy crypto at your preferred price. 
How to buy Bitcoin with SEPA Instant?
Step 1. Verify your account. To buy Bitcoin with the SEPA Instant method, you need to have a verified SpectroCoin account. Detailed instructions on the account verification process are available in our blog post. 
Step 2. Find SEPA Instant on the deposit section. Go to the "Deposit" section of your account and choose "Bank" on the left-hand view of your screen. Set "EUR" in the currency filter. Then, press on the "Bank transfer (SEPA)" option. 

Step 3. Enter transfer details. Insert the amount that you would like to deposit and press "Next". 

Step 4. Complete the deposit. You will be given the bank account details that have to be used for your transfer. Use the details to make a deposit from your personal bank account or share the details with your friend if you have a personal IBAN account that allows you to receive third party payments. Find a quick tutorial on how to claim your dedicated IBAN at SpectroCoin here.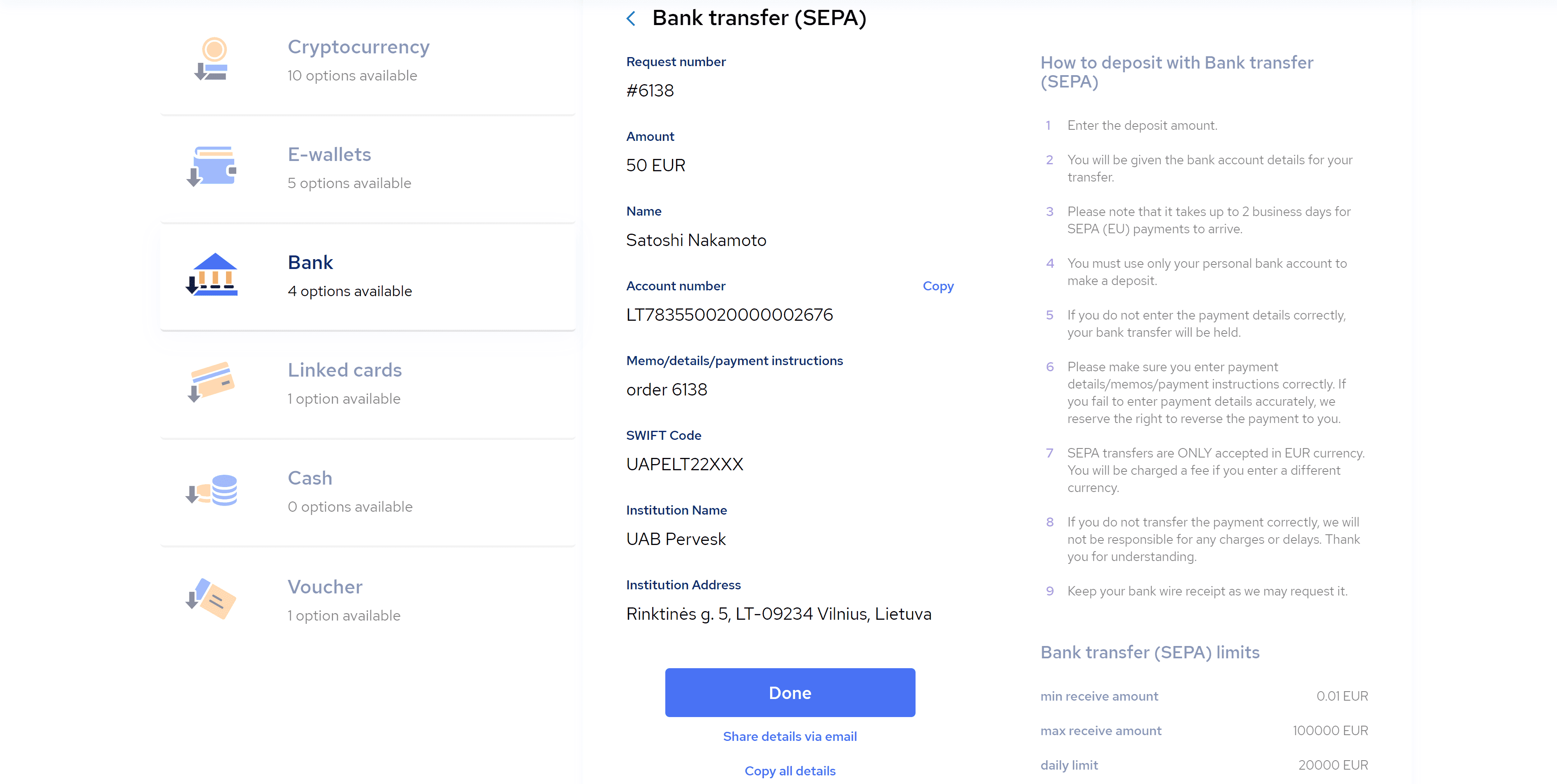 Step 5. Make an exchange. Once the funds are in your wallet, enter the "Exchange" section of your account. Choose the amount of EUR that you would like to sell for BTC. Finally, check our final suggested price and press "Exchange". 

Congratulations, you have successfully purchased Bitcoin with the SEPA Instant option! 
You can also watch the video tutorial on how to buy Bitcoin with SEPA Instant on our YouTube channel. 
If you have any more questions regarding SEPA Instant deposits and withdrawals at SpectroCoin, don't hesitate to get in touch with our customer support through the LiveChat bubble available on our website or drop an email at [email protected].