SpectroCoin is always on the lookout for new coins with great potential to excel in the market. After analysing trending topics in the crypto-communities and market cap rankings, we noticed a large influx of stablecoins users, which influenced the decision of adding a new currency to our system. In mid-February, 2019, tether coin (USDT) will be introduced into SpectroCoin's platform. We believe that by adding USDT we will diversify our crypto portfolio and bring another practical payment option to our customers.
What is a Stable Coin?
Stablecoins were created with the purpose of finding a middle ground between cryptocurrencies and fiat. When it comes to avoiding dependence on central institutions and making fast cross-border transactions, cryptocurrencies pop into our mind, but some customers still remain doubtful due to their volatility and scalability issues.
A stablecoin is a cryptocurrency pegged to other assets. In most cases, to fiat currencies but, in recent years, stablecoins backed by other cryptocurrencies and exchange-traded commodities (precious metals like gold and silver) were issued as well.
Stablecoins backed by fiat are widely accessible, have a fast transaction speed and add stability to a sector well known for its volatility, which all add to their appeal. We believe that stablecoins could make cryptocurrencies even more attractive for daily usage.
Why is a Stablecoin Stable?
If you already fully grasp what is a stable coin, it is time to figure out why it stays stable and how it works.
As fiat-backed stablecoins are pegged to traditional currencies on a 1:1 ratio, they do not experience roller-coaster-like prices, as often seen with crypto. In other words, financial institutions that serve as depositories of the currency used to back the stablecoin ensure that they will be redeemable at any time. These institutions are confident about crypto business models and take full responsibility for potential risks.
Some might say that the stablecoin model is not completely decentralised due to the involvement of financial institutions. Nevertheless the stablecoins currently in circulation are as decentralized as any other cryptocurrency. They are issued on the blockchain, so all advantages of crypto-assets such as real-time transparency and anonymity, open source code, low costs, and global accessibility are guaranteed.
The number of fiat currencies held in Tether Limited reserves must always be equal to or greater than the number of USDTs in circulation.
SpectroCoin's Newcomer: What is USDT?
Tether (USDT) is a cryptocurrency that falls under the category of fiat-collateralized stablecoins. The main purpose of USDT is to build a bridge between traditional currencies like the US dollar, euro or Japanese yen, and cryptocurrencies.
SpectroCoin is bringing tethers pegged against the US dollar in order to offer our customers the ability to send USD across the Ethereum blockchain without volatility swings. Every tether coin is 100% backed by a fiat currency, so the price parity between tethers and USD is maintained:
Let us assume that Tom bought 1000 USDT for $1000. After a while, Tom decides to invest his money into a small business, so he chooses to cash out his tether coins.

As the USDT value is tied to the USD on a 1:1 ratio, Tom's USDT have kept the same value as before, $1000. If he decides to exchange his tether coins, he will receive an amount just shy of $1000 due to fees involved in the transaction.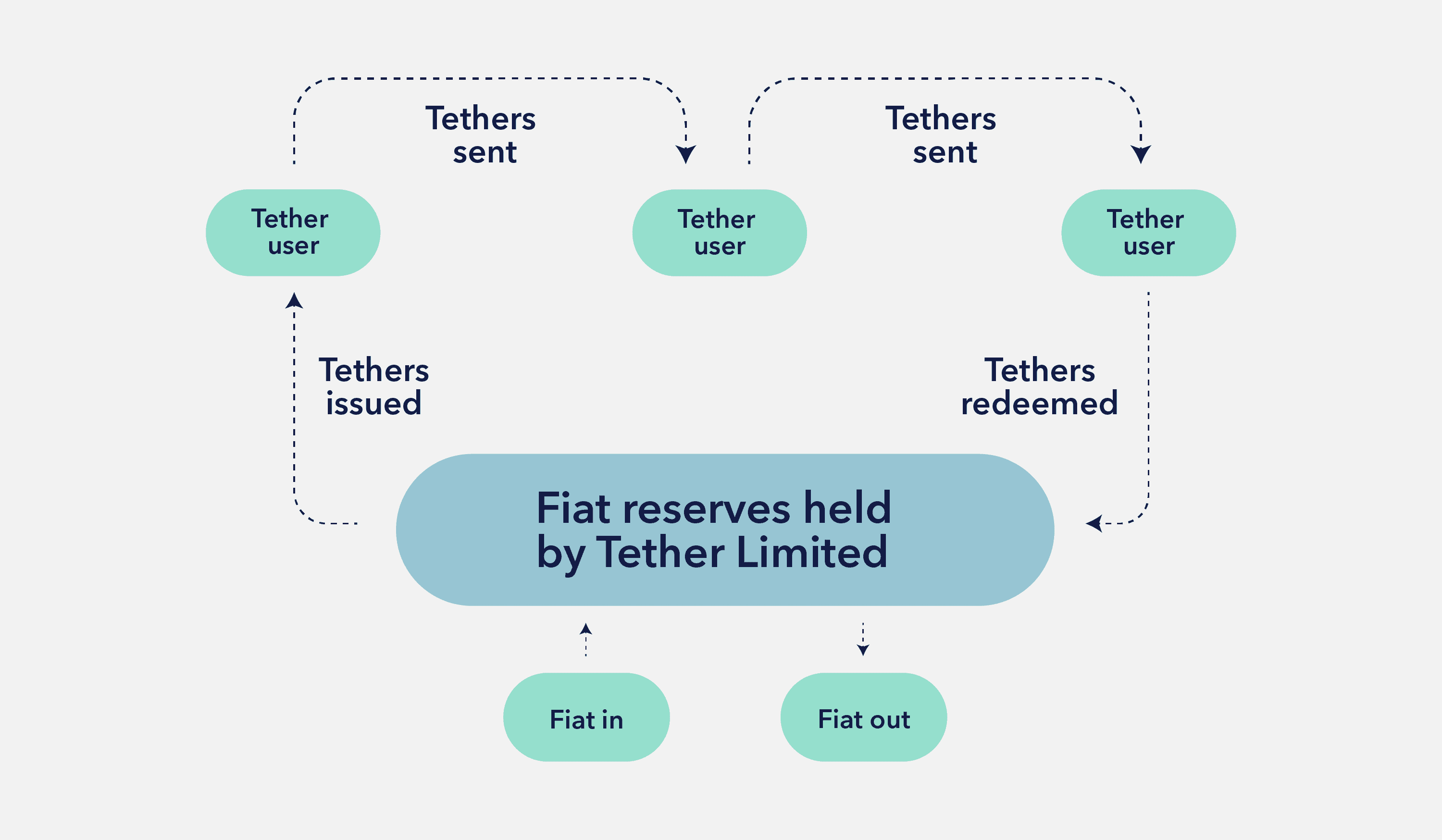 Currently, the bitcoin-based tether is among the top 10 cryptocurrencies by market capitalization, with a total supply of 2,580,057,493 USDT and a quite significant daily volume of 3-4 billions USD. As a newcomer, the Ethereum-based USDTs are quickly gaining ground with a current total supply of 60,057,493.363429 USDT.
Now that we learned what is USDT, it is time to talk more about the blockchains on which Tether wallets are based.
Multi-blockchain capabilities
Initially, in 2014, tethers were launched on the Bitcoin network with the use of the Omni Layer, but tethers have recently become available on the Ethereum blockchain as ERC20 tokens. Leveraging tethers on multiple blockchain platforms allow users to choose the best option according to their wallet, funds and other preferences.
Having in mind that tether coins were originally released on the Omni protocol, most of the USDT in circulation is spinning on the Bitcoin blockchain. However, the Ethereum-based USDT is gaining traction among users as a result of its faster confirmation times and lower fees when compared to Omni, and also due to the fact that smart contracts still fuel the growth of the Ethereum market.
In order to avoid the painful question "Where is my money?", SpectroCoin wants to remind you that, before sending or depositing USDT, you must carefully check if the receiver's Tether account is based on the Ethereum or on the Bitcoin blockchain. SpectroCoin supports only Ethereum-based USDT transactions.
SpectroCoin Tether wallet supports only Ethereum-based USDT transactions.
From a crypto market perspective, the diversity of blockchains expands Tether's opportunities to be used as a medium of exchange - a tether coin can be easily moved, traded, converted to USD or exchanged to other cryptocurrencies, such as BTC, ETH, LTC, NEO, and XRP.
Don't have a SpectroCoin account yet? Become a member of SpectroCoin, a global cryptocurrency solutions provider, and create your tether wallet to seamlessly store, sell or buy tether (USDT).